Welcome to the mystic island of Kish.
Have you ever wish to get away from the hectic city life and relax on a tranquil
island? Far a way from everyone and everything that is ordinary?
Then allow us to suggest to you our paradise island.
Kish Island is a resort island lapped by the sheltered waters of coral-edged lagoons,
home to many of the world's spices of reef fish. Snorkeling in the Kish Island is amongst
the best in the world, whilst scuba diving offers an even more spectacular insight of life
beneath the waters.
Kish lies like a pearl across the turquoise waters of the Persian Gulf and is a heaven of
peace and tranquility fringed by sandy beaches and coral reefs vivid with colorful fish.
For the diving enthusiasts the island has its own PADI/SSI Dive Center.
A variety of other water sports are also available. Jet-skiing, sailing, fishing, parasailing,
reef walking, coral viewing, boating and water skiing are just a few popular ways to
spend the time and enjoy yourself during your visit to the Island.
Kish Island has a calm and beautiful coast . Kish soil is made of coral with a silvery
color dazzlingly shining under the sunlight . Such specification may not be seen in many
other coasts in the world covered with gray sand.The sea water in Kish island is bright
and clear in a way that the bottom of the sea can be easily seen from a very far
distance . Kish coast is one of the least dangerous coasts in the world .
These are just few reasons that have turned Kish Island into a popular holiday
destination in the region. All together, Kish Island offers a stunning variety of cultures,
scenery, sports, duty-free shopping and entertainment.
Hotels
provide every comfort, shops offer an
enormous variety of goods, and superb food is
served in establishments ranging from country inn
to elegant
restaurants
.
Kish's top hotels cater the best, offering a perfect
combination of business and leisure facilities.
Attractive service and outstanding cuisine can be
expected and most of the restaurants entertain
the guests with live music.
It is not surprising that Kish Island attracts
visitors from all over Middle East, and increasingly
nowadays, from other countries around the world.
The Sunshine Island has a climate that allows
visitors to enjoy its attractions to the full and Kish
really does have something for everyone, no
matter what they may seek from a holiday.
Social life in Kish Island is not exactly what you expect to find in Iran. Relax and friendly, stress-free society is what differentiates
Kish from mainland Iran.
On the contrary to Iranians on the mainland, Kish Islanders do not speak of politics that much . They enjoy life and make money.
"Open for Business". That is the logo of Kish island. The right Iranian Free Zone to do business, live and make money.
Except government employees, people go to work at 9 AM. Island's working hours break at
2 PM, and then everyone can be found, or lost for that matter, on the mystic places Kish
Island has to offer.
Shops re-open at 5 PM and remain open till 11 at night. Restaurants serve food,
accompanied with live music, till 3 AM.
There are more women visiting the island than men.
This may be due to the more relax and free
atmosphere women enjoy on the island.
Iranian movie stars, writers, poets and artists are
also choosing the island for their long vacations.
Therefore, the social life of the island is becoming
the talking sensation of Tehran and other Iranian
major cities. Foreigners living and working in Dubai
are also complimenting the stress- free social life of
kish, during their trips to the island.
more pictures:
-----------------------------------------------------------------------------------
Kish Island Report
Recently, we set off on a trip to Kish Island which is in the Persian Gulf about an hour and half by plane from Tehran. It is a very enjoyable and relaxing place and we all had a great time, as we all needed a break away from it all. This trip really brought us the peace and tranquility that we wanted and needed.
We stayed in a private flat that is owned by a company that I am associated with and the company's operations manager in Kish, and my friend, Shiva took care of us big time. She met us at the airport with her husband, and took us to the flat and showed us around. She had made sure that we had enough of everything for the few days that we were staying; so all we had to do was relax and enjoy ourselves.
We did our share of shopping as the malls were very clean and there were not that many customers and shopkeepers were friendly and polite. Between us we bought three pairs of shoes, two cameras, and loads of chocolates to take as gifts. However we failed to find any postcards of the island to send off to friends!
Many of the island's better restaurants have live bands, some of which are o.k. and one or two are actually good, but the quality of their equipment may hurt one's ears after a while, and they are mostly too loud for my liking. Do not expect great food in the restaurants and hotels, even after all these years, and they don't come cheap!
Here is the best story of our trip. On the second day while we ladies were sunbathing at the ladies' beach, the guys went for a cycling tour, from near the recreational pier where you can hire a bicycle and enjoy the long famous cycle path that goes all round the island.
Just before we were setting off to come home, I got a desperate call from our English friend to say that he had lost his wallet! It had slipped out of his rucksack while he was cycling. They had gone back over their route and did not find it. I suggested that they go to the police and get a report, so he could claim on the insurance, as he was carrying a lot of cash and credit cards. So they did, but while we were in a taxi I got a call from my godson Madjid from Tehran asking me if anyone in our group had lost his wallet. I thought the guys must have called him before calling us. He said no, there was a man on the other phone from Kish who had found a wallet in the road and that Madjid's number was on a piece of paper that was in there. He had tried my home number in Tehran, but they got the answering machine.
To cut a story short, twenty minutes later we met up with the lovely Hashem and his good wife who had found Paul's wallet and thanked them. A few days later in Tehran we invited them over to dinner on New Years Eve. Amazingly, although we met them by chance in Kish, they lived less than a kilometer away from my house. This was almost unbelievable and little short of a miracle. Here I have a picture of this lovely good couple to thank them again plus a few others. Jaye shoma khali (we missed you).
Kish Island is located in Persian Gulf and it has a 3000 years old history. Some of the trees there are reputed to be very old. The island became Iran's first free trade zone in 1982 but now it is more of a holiday resort.
Kish is located 17km from the southern shore of mainland Iran. The island has an oval shape and is about 15km long and 8km wide and covers about 90 Sq km. At its highest point, Kish is only 45 meters above the sea level unlike Tehran which is about 1500 meters. When we were there, temperature was about 28-29C (not bad for the end of December). However despite all the lovely weather, it was quite empty compared to other times I have been there. The shopping malls were almost empty and many businesses were complaining.
There is a delightful cycling path which is 50km long all the way around the island, running along the sea of the Persian Gulf. Throughout the year, with the exception of excessively hot and humid summer days, tourists can enjoy the lovely sand beaches, scuba diving, jet skiing plus football, squash, table tennis and tennis at the Olympic village. Men can swim on many of the beaches but ladies may swim and sunbathe only on the ladies' special beach in the northeast corner of the island.
I must not forget to say that driving standards are much better compared with Tehran. Car hire is now easily available, but the taxis are very cheap; 10,000 Rials (US$1.25) for any single trip on the island.
Another thing that took my notice since my last visit about two years ago was the huge building projects that were going on. The famous 5 star Daryoush hotel with its extraordinary architectural design is one of the island's highlights and I was told one can go to see inside, but if you are not a guest there, there is an admission fee of 100,000 Rials (US$12).
A popular attraction is on the west side of the island, where a Greek ship became stranded on the beach nearly forty years ago. Many people go to this isolated spot, especially to watch the sunset and to take photographs, and I have a few for you too.
We asked our taxi drivers and many other local people we came across; why is this lovely island, at its best time of year, so quiet? They told us that due to restrictions that are imposed, many international tourists do not come here. Considering the cost of air travel from Tehran to Kish and the high hotel charges, many Iranians prefer to travel to Dubai or the beaches of Turkey for the same money. In these places they have a foreign holiday with good food, more varied shopping and it can sometimes cost even a little less than Kish. One can only hope that soon the Island authorities review some policies and endeavor to make it more attractive to both local and foreign tourists, since Kish is now more of a holiday resort than the shopping hop that it used to be.
-----------------------------------------
New 7 Star Hotel in Kish Island, Iran
The Flower of the East, German-Iranian Project:
http://www.floweroftheeast.com/
It is a 1.7 billion euro (USD 2.0 billion) German-Iranian project which be held in the Iranian island of Kish in the Persian gulf. The first construction started last year and is expected to be completed in 2009. The whole project contains a lot of residentials and other activity facilities, such as sport centers and gulf courses. The project also contains a
unique seven-star luxury hotel
. The tower is a clever combination of sophisticated aesthetics of Persian architecture and ultra modern high-tech architecture.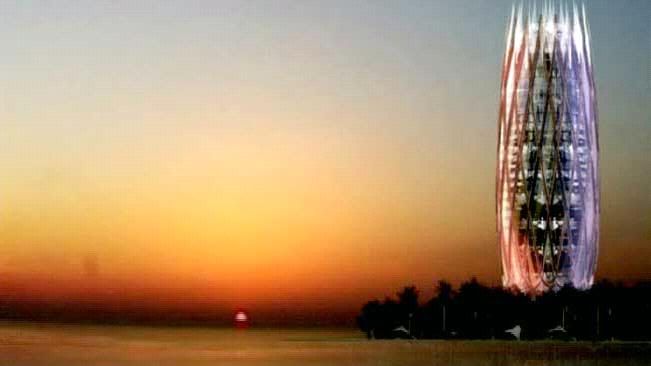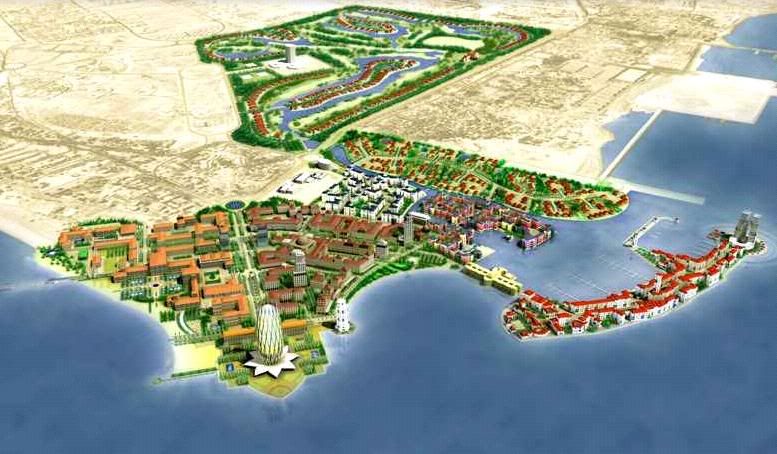 -----------------------------------------------------------------------
Here is another 7 Star Hotel project on
Kish Island
( built on water and with underwater restaurant ) under construction for 3 years now and expected to be completed in 2006. This one is estimated to cost 1 billion USD and is 100% engineered by Iranian architects.
and here is a music video, filmed in Kish (sorry if the music sucks)
http://www.bezanberim.com/video/ArianBezarBeram.wmv
Air port: