Ali Parvini
Home › Ahmad Anvari's Friends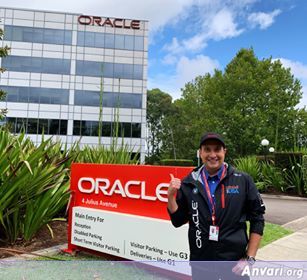 Ali Parvini
My Goal:
It's nice to be at Ahmad's friends list and his great website. :)
According to Mother Theresa's final analysis and ACM code
of ethics and in the frame of Manifesto 2000 for a culture of
peace and non-violence, I am doing my best to be a man of
value and participate to human progress and extend the
definition of human ability.
Some Great Quotes:
We don't see things as they are, we see things as we are.

Success is not the destination, its the journey.

You must be the change you wish to see in the world.

Instead of complaining about darkness, light a candle.

Your imagination is your limit.

The best way to cheer yourself up, Is to cheer someone else up.

A bit of fragrance always clings to the hand that gives roses.
Contact Information:
Personal E-mail: aparvini@yahoo.com
Scientific E-mail: parvini@acm.org
Business E-Mail: parvini@minoosoft.com
Some Related Links:
Iran ACM Chapter: http://www.acm.org/chapters/maps/prochapnus.html#Iran
Minoo Software Solutions: http://www.minoosoft.com
J2EE Technical Group: http://groups.yahoo.com/group/j2eelist
Open Source Technical Group: http://groups.yahoo.com/group/opensourcelist
Internet Engineering Group: http://groups.yahoo.com/group/spider
Personal Web Site: http://www.aliparvini.com
Brief Biography:
I was born in August 1976 in Tehran and have studied computer engineering.
My favorite sports are: swimming, running, cycling, mountain climbing, badminton and football.
My preferred jobs are: teaching, software developing and management.
I like traveling and photography and listening to music.( I love sea and north of Iran.)
I like social activities and member of many societies, thus have many friends.
I am the founder and president of a software developing company.
If you are Ali Parvini and you want to update your page, send me an e-mail.
---