NBA Draft: "He's 7-5, 260 pounds, with a 8-foot wingspan. He turned eighteen less than a week ago. He.s a shot blocker with a soft shooting touch. He comes from Iran, and he can grab the rim flat footed and dunk on his tippy-toes! The natural reaction to .from Iran. is, .So he can.t play, right?. But he can. He.s still raw but not as raw as you might imagine."
"Jaber Rouzbahani has been playing basketball for less than four years. He played Yao Ming in an Asian Tournament last year and held him to 15 points. (About half of what Yao was averaging in the tournament.) He also played at the (19-under) World Junior Championships in Thessaloniki, Greece last summer in front of NBA scouts averaging 12 points and 8 rebounds per game and an eye opening 7 blocks, leading the entire tournament. "
Strengths: Huge frame and (8 foot) wingspan. Truly a giant. Plays like a center. Great shot blocking potential. Has a soft touch out to 12-15 feet. Because he hasn't had any real basketball coaches work with him, his potential to develop quickly is very good. He has a great attitude, really wants to improve. Compeitive, will go hard to the basket even when being pushed around or fouled.
According to NBA Mock Draft, he might go to Portland next season. He's also one of the youngest among this year's draftees.
Mojgan sent me this picture and I added a bar showing how tall I look comparing to Jaber (and this comparison makes more sense to the people who know me..) Besides, he lives in the Bay Area now, so I might be able to get him to play in one of our Thursday evening basketball matches with Good Technology guys.
Related:
Looks like we've got a little larger space (almost 1000 times bigger, 1TB, 1000000MB) on our Gmailboxes (Screenshot).
Update: Does anyone else see the same thing or is it just a bug on my account? Tekno's account still shows 1000MB.
Update: Reuters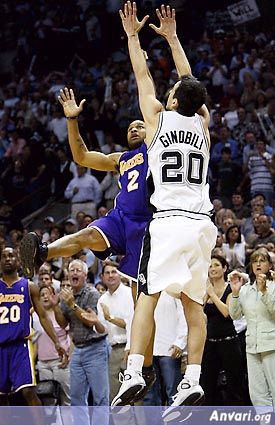 Wow! That was THE best ending of a basketball game I had ever seen in my life. Lakers were trailing by one, Kobe bryant made a fade-away jump shot to take the lead 10 seconds left to the end of the game.
Lakers had anther foul to give, their timing was awesome: they gave it 5 seconds before the game ends for a fresh start. San Antonio gave the ball to Duncan and he made an off-balance 20-footer while falling to his left. Duncan didn't even see the shot go in, and the Spurs started celebrating! Clock: 0.4 seconds!
Both teams took three timeouts before Fisher swished the game-winning 18-foot jumper off an inbounds pass with 0.4 seconds left! He said he was half way into his shot before making it. That was just incredible - In your face, Tim Duncan!!
"One lucky shot deserves another," said Shaquille O'Neal. I love this man! Gotta run watch the last 2 minutes for the 600th time tonight!
Photo: Stephen Dunn/Getty Images
Google has apparently started a slow marketing campaign advertising on a few major technology news sites such as WebPro News. (found any other sites? let me know)
Here is one of the Google's internal marketing pages. Well, that's how today's hot advertising market words, you make money through advertisement, pour the money into your site's advertisement to make money from advertisement, and so on...
Google's ads are shown roughly as many times as Overture's and Microsoft LiveMeeting's ads are shown and they stop showing as soon as you click on any of them or they are shown 10 times or so for a particular client. Just delete your cookies if you want them to appear again.
P.S.: Here is another ad.
Update: Aaron Wall: "They have been advertising on the internet.com family of sites (search engine watch, earthweb, internet.com,... lots of sites) for many many months.
Looks like Yahoo! is displaying some debug information (%NESTED-LOC:HPLS%) every once in a while on Yahoo! web site headers. I was wondering if this is intentional or they're somehow trying to detect spammers, crawlers, etc...?
NESTED-LOC: Nested Lines of Code?
"Note to selves: Keeping browser tabs open is crappy way to manage your to-do list.", says Evhead.
http://americanassembler.com/features/iq_state_averages.htm

(Thanks, Sia) 2000 Election results ranked by avg statewide IQ

IQ Win State
113 Gore Connecticut
111 Gore Massachusetts
111 Gore New Jersey
109 Gore New York
107 Gore Rhode Island
106 Gore Hawaii
105 Gore Maryland
105 Bush New Hampshire
104 Gore Illinois
103 Gore Delaware
102 Gore Minnesota
102 Gore Vermont
102 Gore Washington
101 Gore California
101 Gore Pennsylvania
100 Gore Maine
100 Bush Virginia
100 Gore Wisconsin
99 Bush Colorado
99 Gore Iowa
99 Gore Michigan
99 Bush Nevada
99 Bush Ohio
99 Gore Oregon
98 Bush Alaska
98 Bush Florida
98 Bush Missouri
96 Bush Kansas
95 Bush Nebraska
94 Bush Arizona
94 Bush Indiana
94 Bush Tennessee
93 Bush North Carolina
93 Bush West Virginia
92 Bush Arkansas
92 Bush Georgia
92 Bush Kentucky
92 Gore New Mexico
92 Bush North Dakota
92 Bush Texas
90 Bush Alabama
90 Bush Louisiana
90 Bush Montana
90 Bush Oklahoma
90 Bush South Dako ta
89 Bush South Carolina
89 Bush Wyoming
87 Bush Idaho
87 Bush Utah
85 Bush Mississippi




Content may be reused according to the terms of the OPL.