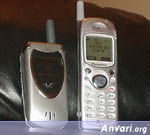 The cell phone freak has got a new phone! This little Panasonic Allure is my new toy. It seems to be the lightest cell phone in the states and the second lightest phone in the world after Japan's popular Sanyo according to a survey from CNET. You can't believe how light it is unless you try it for yourself!
So, let's compare my old and new phones as I did last time when I bought the V60.
As you can see in the picture, V60 is smallar than Allure. They both have voice memo, speed dial and voice dial. Allure is MUCH lighter than v60 and other phones, has a built-in speaker phone (so cool!), better interface and different colors and pictures for the people in phone book. Allure seems to have a better battery life but I haven't tested it yet (since I charge v60 in the car sometimes, I couldn't compare them).
As for the service, AT&T provides the new service on my new phone and that is so far the only phone/service combination which works at my place on the top of the hill! Great, ha?! AT&T doesn't provide Internet access but I've got full Internet access, browser and messengers through Verizon Wireless on the good old v60.
Content may be reused according to the terms of the OPL.